Coping with Grief
Time is mysterious, invisible and untouchable, but as it flows through, it always leaves a different imprint. Apart from the triviality of daily necessities, the purity of friendship, the strong family relationship and deep love are all precious wealth left by time.
Time is also cruel, leaving wealth but at the same time also quietly take everything away. When life is lost, we are left powerless to watch our beloved who once lived together day and night turn lifeless, into dust, unable to communicate, touch, unable to kiss and hug. Most people will be left deflated, without spirit, as if the sunshine has been stolen and like there is no place for lonely hearts.
Download our new four part series on strategies for dealing with grief by clicking on the image below.
Life may have taught us a lot of humbling lessons, but when it really comes to face the end of a loved one's life, most of us lose our convictions and become helpless and crushed with grief, unable to accept what has been dealt. The companionship of life is uncertain, but the time has allowed us to create a wealth of experiences and special moments. The memories of friendship, family and love have left their indelible mark on the axis of our life times.
In particular, human beings exist as an advanced ideology of life, in the understanding of the truth of life, but also the pursuit of companionship. When life does not exist as a format, what else can restart the journey of these memories?
Memorial Diamonds
At the beginning of the millennium, Algordanza memorial diamonds was born in the clean and spacious lands of Switzerland. It is not only the extension of the funeral industry, but also a new starting point for the funeral industry. It refreshes the concept of traditional funeral, and gives a new meaning — memorial diamonds as a more meaningful and environmentally friendly way and posture.
A memorial diamond is a kind of synthetic diamond, but it is not equal to a synthetic diamond. In addition to rigorous scientific research, mature and first-class technology, advanced laboratory machinery and equipment, Algordanza guarantees that 100% of the memorial diamond composition comes from the carbon extracted from ashes. It is a certified process that is also documented by reputable news media. It is the embodiment of beautiful and elegant memory and it is unique.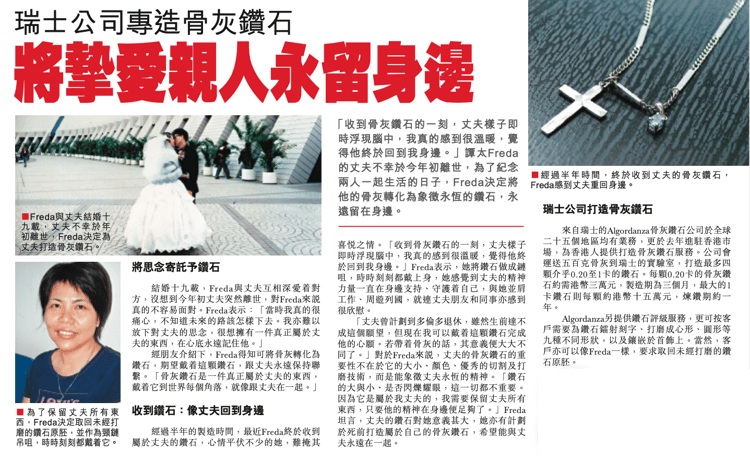 A memorial diamond provides people who lost their loved one with another choice besides the traditional funeral. Memorial diamonds allow for the reliving of precious memories and still provde comfort of presence, in order to obtain inner peace and towards the next chapter of life. To learn more about Algordanza memorial memorial diamonds, please click here.

Since its establishment, Algordanza Hong Kong has provided memorial diamond services for many people in need. High quality of service and devout service attitude let us win high praise from our customers.

Memorial diamonds may not be the mainstream burial method, but it has really affected people's view on the options available and leads the new trend of burial. In addition to helping people re-enforce their precious memories and stay with their loved ones, it also helps people regain their radiance, gain inner peace, and face their future lives calmly.
Hear what Algordanza Hong Kong's clients have to say.
You are not alone and Algordanza is here to help. Hear what our clients have to share about their experiences, and the hope they would like to impart to others who face the same difficulties as they once did.
"I'm used to travelling with my memorial diamond in the past few years. A great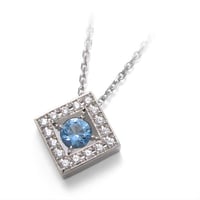 companion to me and feels like l'm not alone. "
- Carina Ho
"We have placed the diamond in our living room, so basically memories with my dad have always been with us since then and somehow is a way to comfort our mind and definitely helps us to move on, but still with all great memories to accompany."this memorial diamond is definitely something much appreciated".
- Mandy Chung
"Especially now that COVID-19 is difficult to leave the country. If you have Ashes carbon diamonds by your side, no matter where you are in any country, you can worship your loved ones at any time and in any country."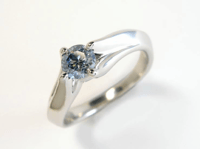 - Christine Koo
"Agree to Algordanza memorial diamond's service concept: to make funeral ceremonies more meaningful and environmentally friendly."
~My diamond of LOVE is back to the Earth~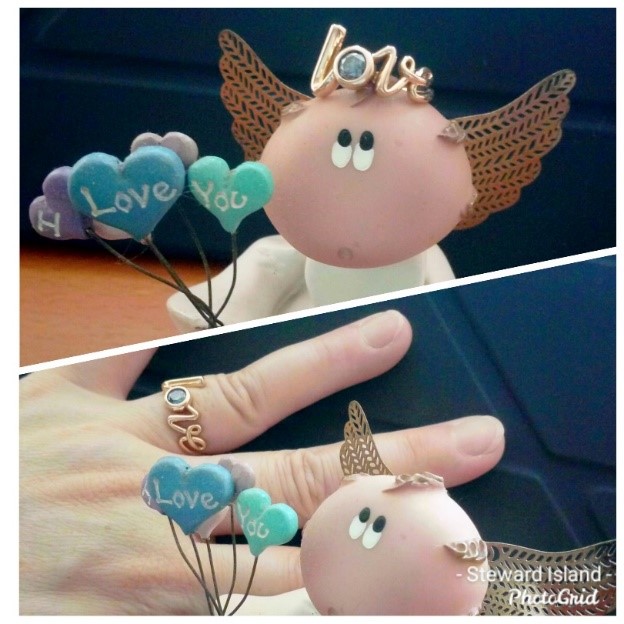 Cindy's memorial diamond
" Looking back on the moment when I received the notice to get the memorial diamonds, I felt very nervous and excited. With expectation (his new appearance) and curiosity (his color), I walked into Algordanza HK office. I saw him so small...But I found that the blue light flashed into my eyes. 'He' became a blue diamond and my heart smiled.
Carefully touch "him ", feeling from the floating time and space back to the real earth. Turn around and think about how to get along with 'him'.
Go to the Johnny Jewelry store that you recommend. After the patient analysis of the professionals in the store, I inlaid "him" into a blue diamond ring, I can wear it at will. For a moment, can look at 'him', touch 'him', caress and kiss 'him'. Sometimes I can talk and laugh easily. I wore 'him' on my fingers. I got the peace of mind and smile (because he was always with me).
I am now living in a normal way, I would like to be in the sad people can find peace of mind, step forward!"
- Cindy Pang
"Everything seemed to be God's will. I was three years older than my husband. I never thought he would leave before me. About 2015-2016, I met you through friends. At the end of 2017, knowing that he was going to leave, I suddenly remembered his words: if either of us left first, we would like to stay with each other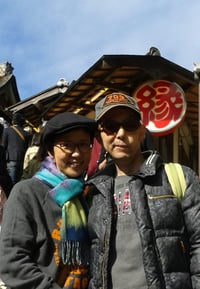 and continue to accompany each other.
At that moment, I think of you...
When I received the ashes my heart was broken...
while received the memorial diamond I feel so warm and smile.
Because of you, realized his commitment :" life together "
Now every time I meet with worry and fear, I will feel steadfast when I see my memorial diamond on hand.
- 梁太
"My husband died of cancer in 2013, the feeling of pain is beyond description. At that time I was alone and the road long ahead. I hoped that I could do more outside the normal funeral procedures, and let myself have more contact with him.
I have heard of the concept of memorial diamond, but it was not popular in Hong Kong at that time. I found a few foreign organizations on the Internet. I had the impulse to fly to Switzerland or other countries to place an order.
lucky to find Algordanza agent in Hong Kong, I could handle in Hong Kong, things became much simpler!"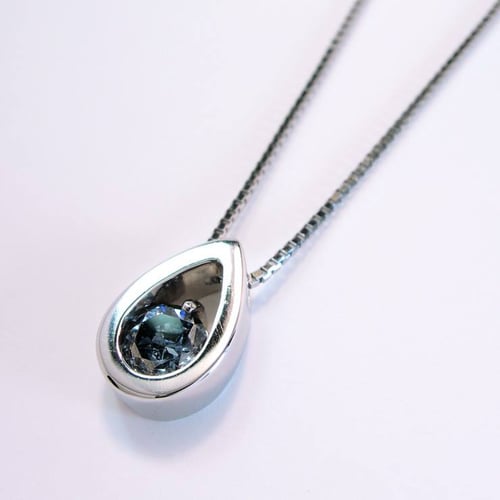 Janny's memorial diamond
"After receiving my memorial diamond, I always hung it on my neck. In fact, from the moment I put it on, I felt more peaceful in my heart. From time to time, I would like to drill the memorial diamond on my neck as I were talking to him. The ornaments on my body will change from time to time, but only the memorial diamond necklace that remains the same. I was surprised when someone asked me about it.
Some relatives and friends asked whether worried about losing the memorial diamond necklace? My answer is: it's like a smart phone. You can always check it, but you can't be afraid of losing it!
Thank you for living well these years, looking back on the great event after years of baptism is only a history soon! I am grateful for this wise decision at that time, but also for the Algordanza's help! Thank you!"
- JANNY
"I made the memorial diamonds into two pendants, one for me and one for my daughter. 'He' will always be around us, there will be accompanied by him, happy, sad, like 'he' is still beside me.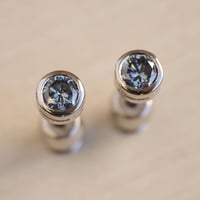 Thank you for knowing that there is such a service. Can turn ashes into ornaments, decoration etc. this can be integrated into a part of daily life. It will give people in need great comfort. Because he is always being with us.
He really loves us. I can only use memories to miss him."
- Suk Yee Leung
There is a saying: Companionship is the longest love confession. In fact, it is also the most powerful backing a couple, a family can have. Algordanza memorial diamonds permeate the love that always accompanies such bonds, and re-enforces the memories, so they don't fade away.
(some client testimonials direct translated from Chinese)